Dublin Roofing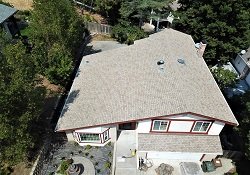 If you are here, you are presumably looking for a reputable Dublin roofing contractor. The good news is you've come to the correct site for roof replacement, repair, or maintenance. PRI-Premiere Roofing offers superior residential roofing services! Their crew will meet and surpass your expectations for roof repair, replacement, or a new roof.

For your roofing needs, PRI-Premiere Roofing only works with the leading industry specialists. Since 2016, many Californians have relied on PRI-Premiere Roofing. As a leader in the roofing sector, they aim for excellence. This makes your Dublin roof repair or replacement project simple and quick for you and your family.
We are the Roofing Contractor in Dublin to Call for:
High-Quality Dublin Roof Repair
Residential dwellings can only survive so much weather. Inclement weather can cause damage to your roof over time. Routine roof inspections and Dublin roof repair services are necessary to maintain the condition of your roof. As a homeowner, it may be tough to simply inspect your roof for leaks or weak spots. PRI-Premiere Roofing is ready to help you keep your roof in good shape all year long!
Emergency Roofing Repair in Dublin, CA.
Has your house recently been hit by a natural calamity or trees falling? No problem, PRI-Premiere Roofing specializes in extensive roof repairs. They are here to help you if your roof has been damaged by a large storm or another catastrophic disaster. Call now for quick assistance. As a local Dublin roofing contractor, they specialize in storm damage repairs!
Dublin Roofing Replacement & New Installation
Have you lived in your home for a long time without replacing your roof? Maybe you recently bought or are building a new house and need a new roof? In any case, you need a reliable Dublin roofer and PRI-Premiere Roofing specializes in new roof design and construction.

PRI-Premiere Roofing offers a step-by-step approach that will help you through the build. With this method, you may avoid tension and concern while enjoying your new roof's durability, appearance, and cost. The good news for homeowners is that PRI-Premiere Roofing takes pleasure in its job. Because of their dedication, they have been certified by the leading roofing material manufacturers to install their products.

To see some of their 5-Star Yelp customer reviews, click here.
Although PRI-Premiere Roofing constructs the best roofing systems, materials wear out and can be damaged by extreme weather. To keep your roof in tip-top shape and ensure that you get the most out of its life, they offer free inspections. From the minute they arrive at your door to the moment they leave, you will have a great overall experience. PRI-Premiere Roofing takes pride in providing excellent customer service. To find out which of their Dublin roofing services is perfect for you, give them a call now at (925) 453-6240.